Marilina Paters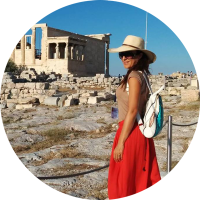 Welcome to Elissos Travelling Philosophy Private Tours in Crete!
Introducing Myself
My name is Marilina Paters and I was born on the island of Crete, Greece. I am an Official Licensed Tourist Guide based on Crete, holding a PGC in Prehistoric Religion and Arts- Mythology and a Performer.
I am also the Founder of Elissos Travelling Philosophy Travel Agency based in Crete offering Cultural, Artistic, Spiritual and Mythology based Private Tours. With 15 years of experience in my field, I created Elissos as a result of my greatest passions and of my desire to show people visiting Crete how they can literally experience this unique island deeply with all their senses.
Through Elissos Tours, I am suggesting to you new ways to explore and reveal the historic, traditional, spiritual and artistic aspects of Crete. Meeting Crete with me and my team you are not just passive receivers of information and pictures captured by your eyes, but active participants interacting in a beautiful journey in time, myths and traditions.
I am focusing on your Crete Travel to be primarily experiential. I do believe in the interaction of our Mind, Body and Spirit in every experience we may have. The same happens when we travel. Especially when we travel! This is why my tours combine unique experiences for your Mind, Body and Spirit, functioning as an indissoluble unity.
Through special Sites, Activities and Features you will delve into the Cretan History, Mythology, Arts and Traditions.  In an enjoyable way, you will free and feed the Mind, guide and regenerate the Spirit, liberate and (re)balance the Body.
Our aim? A Complete Travel Experience!
MY BACKROUND AS AN OFFICIAL LICENSED GUIDE
I am a graduate of the National Guides School of Greece with a license validation for the whole of the country (1997-2000). The Guides' School of Greece is a three and a half years University State Institution authorized and run by the Ministry of Culture and Tourism of Greece. The National Guides School is the only Greek institution having the authority and jurisdiction to provide a working license for a tour guide.
I also hold a Postgraduate Certificate in Mediterranean Prehistoric Religion and Arts and in Mythology, by Goulandris Cultural Foundation, Athens Greece (2003-2004).
Since 2000 I have been working as an official licensed guide, based on Crete Greece, undertaking tours in the rest of the country as well. Examples of such are touring programs on other Greek islands (Santorini, Corfu, Mikonos, Delos), on mainland Greece (Acropolis and Athens, Keramikos, Sounio, Eleusis, Salamina, Delphi), in North Greece (Vergina, Thessaloniki), in Peloponnese (Korinthos, Mycenae, Epidaurus, Tirynth, Olympia, Pilos, Nauplio, Sparta) and in the country's most important archaeological museums.
I have also escorted and guided groups in several European countries (Germany, Switzerland, Italy, Spain and Austria) and elsewhere (Egypt, Cuba).
I have cooperated with more than 25 different national and international Travel Agencies and Tour Operators in my career, servicing always incoming tourism.
Many of my groups have been people with specific interest on History, Archaeology, Arts and Religion such as the Archaeological Society of Australia, The Plymouth Church of Minneapolis, the Sola Vita Arts Community of Florida, the Embassy of the People's Republic of China, Great Goddess Study Tours.
I have also undertaken guiding for several International Congresses and Art festivals, such as for the 15th International Medical Symposium on Crete (2012) and the1st and 2nd Contact Improvisation festival on Crete (2011, 2012).
My professional base, area of intense research and specialization is the island of Crete and its plethora of historic and prehistoric monuments and sites. Delving into its myths and their symbolism, into its ancient rituals and practice, into its ancient arts.
MY BACKROUND IN THE ARTS
My huge love for dance and expressing myself through movement, forced me since an early age to start exploring different forms of dance such as Ballet, Jazz, Contemporary Dance (Graham, Limon, Release Technique), Musical, Kinesiology, Dance Theater and Contact Improvisation, Authentic Movement, Latin-American Dances, Salsa and Argentinean Tango.
I have been attending dance classes and workshops in several dance schools and studios in Greece and in Europe and have participated in several Dance and Performance workshops led by great teachers in my country and abroad.
I have been also performing as a dancer in Ballet and Contemporary Dance, Dance Theater and Improvisation performances in Greece.
I consider the arts an indivisible part of my country's historic course. The soul of my country and a vessel through which ancient traditions, customs, manners, beliefs, history itself is being expressed. Greece is its ancient Arts the same as Greece is its ancient Sites and Monuments.
I embody ancient Greek Arts in my suggested tours and present them in an experiential and interactive way. The ancient Greek Music, Dance and Theater, old yet still practiced Folk Arts and Crafts and Greece Fine Arts become a part of your experience and a way to get to know Crete from a different angle.